technology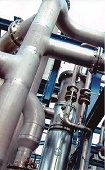 Our plants utilize low heat pyrolysis and continuous gasification technologies to insure 100% of your waste stream is converted into resellable products, power, and clean burning biofuel. The synthetic gas is a natural gas equivalent and is even suitable for turbine operation.

The conversion processes we use are the latest, most efficient, and profitable in the industry. Our field-proven plants are also worker friendly, and do not require highly sophisticated personnel to run them.

Design
Every facility we build is custom-designed to suit your exact needs. Whether you are a privately held company, a major corporate enterprise, an arm of the military, a municipality, or a national government... we can build a profitable, pollution-free waste-to-energy facility for you.

Plants come in several pre-made sizes with waste capacities of 4-150 tons a day with continuous feed and no char or other hazardous residue. Your facility will architecturally blend with the landscape, so it won't be an industrial eyesore.

engineering
There are a lot of "pie-in-the-sky" waste to power companies in the marketplace today. Although their technology may look good on paper, it either doesn't work in the real world, or can't be scaled up for commercial operation. But our prototype plant has been operating successfully and continuously in Germany for nearly 14 years.

All of our plants utilize a core of modular components, making any waste to energy facility we build fully scalable and upgradable. We can use nearly any bio-mass feedstock and convert 100% of it into resellable products (like hi-quality carbon black, steel and other metals), power, fuel, and even carbon credits.

construction
Completion bonds are avilable to insure plants are built on time and to specification. In many cases we can also assist in funding projects.

In most situations local workers (overseen by our field engineers) can complete much of the plant assembly, since many components are modular in design. This way plants can be fully operational AND PROFITABLE in an amazingly short time period.